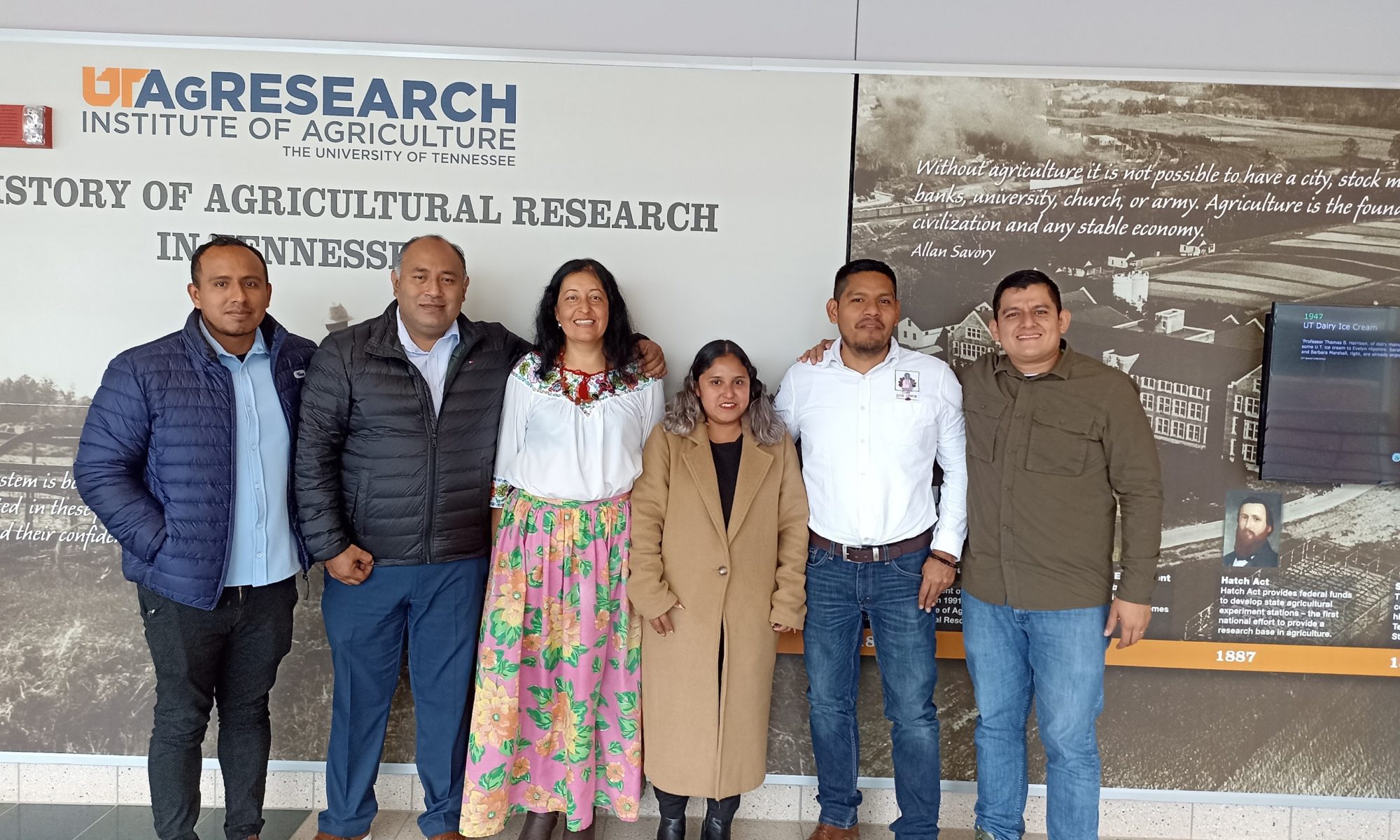 Students Share Graduate Research Projects and Explore Tennessee Organic Agriculture.
The Department of Agricultural and Resource Economics at the University of Tennessee Institute of Agriculture recently hosted five graduate students from the Colegio de Postgraduados (COLPOS), Córdoba Campus, Mexico.
The visiting master's students, led by COLPOS faculty Roselia Servin, had the opportunity to receive feedback from Institute faculty regarding their research projects and tour organic farms in the East Tennessee region. Local farming operations hosting the students included Crooked Road Farm, managed by Jonny Buchanan, and Care of the Earth Community Farm, managed by Megan Allen and Lalo Lazaro. The delegation also visited the Department of Family and Consumer Sciences and UT's East Tennessee AgResearch and Education Center, Organic Crops Unit, guided by Annette Wszelaki from the Department of Plant Sciences and Unit service supervisor William Lively. Students readily identified common challenges faced by Mexican and U.S. farmers.
"It is rewarding to see this project executed," said Carlos Trejo-Pech, associate professor in the Department of Agricultural and Resource Economics. "The project involved a delegation from COLPOS traveling to Tennessee and a UTK delegation traveling to Mexico. The successful execution of this project has only been possible through the diligent work of many during the last two years and the generous support of sponsors."
As part of this exchange program, six UT undergraduate students and UT faculty Carlos Trejo-Pech traveled to COLPOS last year to study the business of coffee.
This international exchange program is funded by 100,000 Strong in the Americas, the U.S. Department of State, and Mexican institutions Fundación Banorte and Grupo Maseca. The program was led by Carlos Trejo-Pech, in collaboration with Margarita Velandia from the Department of Agricultural and Resource Economics and Adam Willcox and Sara Beatriz Mulville from the Smith Center for International Sustainable Agriculture.