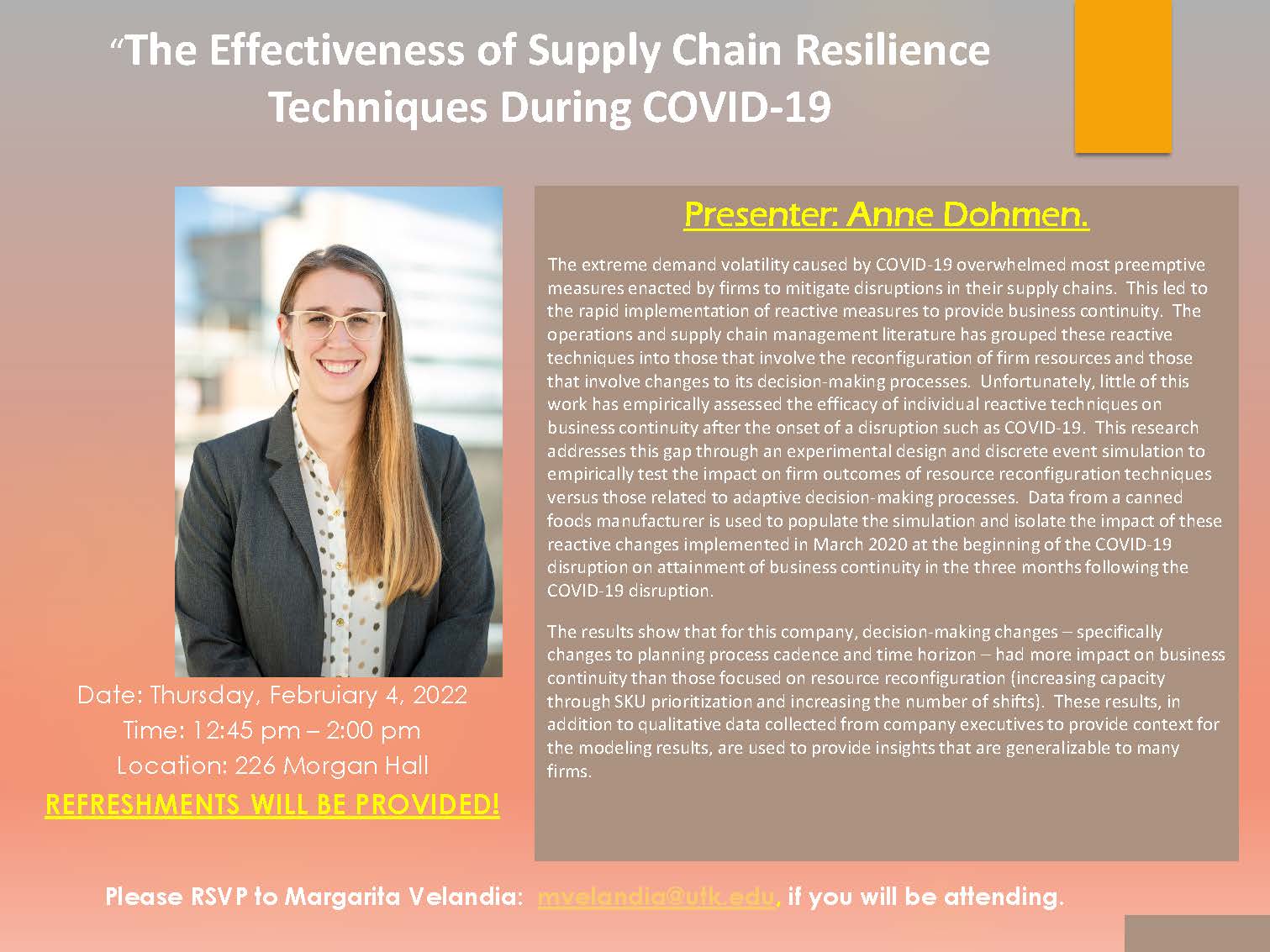 Join us Friday, February 4, 2022 as Anne Dohmen, is a doctoral student in the Department of Supply Chain Management at the University of Tennessee, Knoxville, presents a seminar on the effectiveness of supply chain resilience techniques during COVID-19.
Date: Friday , February 4, 2022
Time: 12:45 pm to 1:45 pm
Location: 226 Morgan Hall
RSVP: Email Margarita Velandia
About the research
The extreme demand volatility caused by COVID-19 overwhelmed most preemptive measures enacted by firms to mitigate disruptions in their supply chains. This led to the rapid implementation of reactive measures to provide business continuity. The operations and supply chain management literature has grouped these reactive techniques into those that involve the reconfiguration of firm resources and those that involve changes to its decision-making processes. Unfortunately, little of this work has empirically assessed the efficacy of individual reactive techniques on business continuity after the onset of a disruption such as COVID-19. This research addresses this gap through an experimental design and discrete event simulation to empirically test the impact on firm outcomes of resource reconfiguration techniques versus those related to adaptive decision-making processes. Data from a canned foods manufacturer is used to is populate the simulation and isolate the impact of these reactive changes implemented in March 2020 at the beginning of the COVID-19 disruption on attainment of business continuity in the three months following the COVID-19 disruption. The results show that for this company, decision-making changes – specifically changes to planning process cadence and time horizon – had more impact on business continuity than those focused on resource reconfiguration (increasing capacity through SKU prioritization and increasing the number of shifts). These results, in addition to qualitative data collected from company executives to provide context for the modeling results, are used to provide insights that are generalizable to many firms.
About our presenter
Anne Dohmen, is a doctoral student in the Department of Supply Chain Management at the University of Tennessee, Knoxville. Prior to joining the Ph.D. Program in 2019, Anne got a Master of Science degree in Agricultural and Biosystems Engineering from Iowa State University and worked for Procter & Gamble and General Mills as a controls engineer. Anne holds Bachelor of Science degrees in Systems Science and Engineering and Applied Electrical Engineering from Washington University in St. Louis.