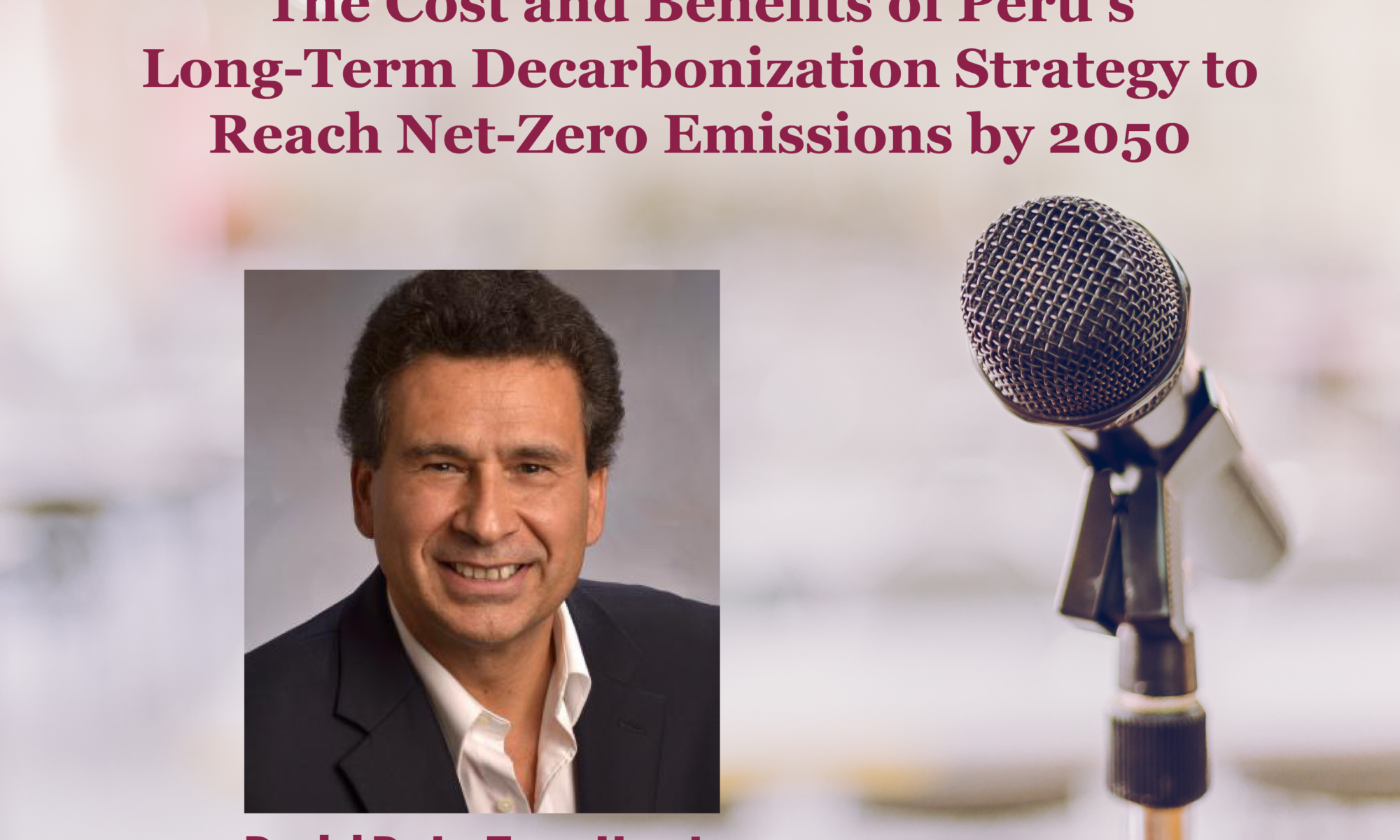 Join us Thursday, July 22, 2021 as Daniel De La Ugarte, Ph.D., presents a seminar on the cost and benefits of Peru's long-term decarbonization strategy to reach net-zero emissions by 2050.
Date: Thursday , July 22, 2021
Time: 11:30 am to 1:00 pm
Location: 226 Morgan Hall
RSVP: Email Margarita Velandia
About our presentor
Daniel De La Torre Ugarte, Ph.D. in Agricultural Economics from Oklahoma State University. Researcher affiliated with the Research Center of the Universidad del Pacífico and professor at the Department
of Economics and the School of Public Management. Adjunct Professor in the Department of Agricultural and Natural Resource Economics at the University of Tennessee. More than twenty years of experience in the analysis of agricultural and forestry policies, international trade, and climate change
We use Decision Making Under Deep Uncertainty (DMDU) methods to provide a robust analysis of sectorial cost and benefits to support the Ministry of Environment producing the long term decarbonizing strategy under significant uncertainty. We will describe how DMDU techniques were used to assess the costs and benefits of decarbonizing the different sectors using the POLYSYS and OSeMOSYS Peru modeling frameworks. The analysis considers uncertainties such as gross domestic product, population, the cost of renewables, technology efficiencies, demand for transportation by modal scheme, the adoption rates, costs trajectories of various technological platforms, the costs of energy and fuels (both traditional and alternative options), future availability of renewable energy sources, the international price of carbon and crops, emission factors, and changes in diet. We will also describe how policy levers were evaluated to investigate the benefits of setting different objective goals. We will conclude by describing how DMDU methods help identify the largest implementation risks to the long term decarbonization strategy and guide its adaptive implementation.